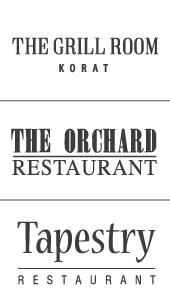 Open daily from 6.00 p.m. until midnight
Premium Steak Restaurant Located on the 20th floor of Kantary Hotel, Korat
Open daily from 6.00 a.m. until midnight
International Cuisine Located on the G floor of Kantary Hotel, Korat
Open daily from 11.30 a.m. until 2.30 p.m. and 6 p.m. until 10 p.m.
Chinese Cuisine Located on the 2nd floor of Kantary Hotel, Korat
Café Kantary
Open daily from 6 a.m. – 11 p.m.
At Café Kantary, let the warm, rich aroma of freshly-brewed Italian Lavazza coffee greet you with its comforting caress. It is the perfect partner to quality bakery so take your time. Come in; relax; enjoy life.